Australian Military Bank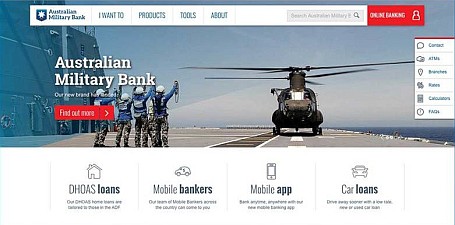 AMB recognised as a Gold Pledge Partner with Soldier On
Australian Military Bank Ltd, headquartered in Sydney, provides a wide array of services to Australian Defence Force (ADF), civilian employees, defence contractors and their families. It offers home, personal and car loans, Visa debit cards, low rate credit cards, everyday transaction and savings accounts, term deposits, superannuation and insurance solutions, online banking, mobile banking app, travel money and foreign exchange products. The company was formerly known as Australian Defence Credit Union and received its current name in 2015. Today it has more than $1.45 billion in funds under management and serves over 56,000 members through 19 branches, 6 kiosks and 30 ATMs. For the year ended June 30, 2021, Australian Military Bank reported net profit after tax of $3.4 million, total assets of $1.5 billion, members' deposits of $1.32 billion, loans of $1.2 billion and total equity of $99.9 million. AMB's Low Rate Visa Card has been named one of the best value credit cards in Australia by Mozo Experts.
Mozo Experts Choice Awards:
Low Rate Visa Card
New Car Loan
Green Loan
Canstar's 5 star ratings:
Savings and Term Deposit products
New Car Loan
Low Rate Visa Card
Credit Ratings:
(Long-term/Short-term deposit)
Moody's: Baa1 / Prime-2
Outlook: Stable
June 20, 2021
Moody's Investors Service announced completion of a periodic review of the ratings of Australian Military Bank.
Australian Military Bank Branches
Head office address:
Level 18, 45 Clarence Street
Sydney NSW 2000
Australia
Phone number: 1300 13 23 28
BSB number: 642 170
ABN: 48 087 649 741
Website: www.australianmilitarybank.com.au
Last updated November 17, 2021