Bank of us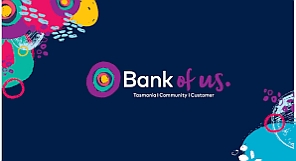 Bank of us, Tasmania
Bank of us, headquartered in Launceston, Tasmania, serves over 31,000 members through 7 branch locations across the state. With about 140 employees, it offers high-quality financial products and services including transaction & savings accounts, term deposits, low-interest rate personal and home loans, cheap car loans, Visa low rate credit cards, debit cards, home and motor insurance, travel insurance, term and regular income investments as well as small business loans, business overdrafts, mobile and internet banking, smart banking app and other services. The company doesn't have any ATMs. For the financial year ended June 30, 2020, Bank of us reported $1.15 billion in total assets, $1.05 billion in total deposits, $927 million in customer loans and $75.3 million in total equity. Paul Ranson is chief executive officer (CEO) of the Bank.
Bank of us is a trading name of B&E Ltd, the oldest building society in Australia. It was established in 1870 and changed its name from Bass & Equitable Building Society to B&E Ltd in 2001. The change to Bank of us happened in 2017.
Headquarters address:
87 Brisbane Street
Launceston, Tasmania
7250, Australia
Website: bankofus.com.au
Store Hours: 9.30 am - 4 pm
Contact Centre Hours: 8.30 am - 5 pm
Phone number: 1300 306 716
Toll free number: 1800 653 326
Overseas call: +61 3 6421 4461
BSB number: 632 001
ABN number: 32 087 652 088
Bank of us Branches
Hobart Retail Store
106 Collins Street
Hobart TAS 7000
Devonport Retail Store
Bass House, 21 Best Street
Devonport, TAS, 7310
Ulverstone Retail Store
Ellis Court (Coles Arcade)
Reibey Street
Ulverstone, TAS, 7315
Burnie Retail Store
57 Wilson Street
Burnie, TAS, 7320
Launceston Retail Store
87 Brisbane Street
Launceston, TAS
Wynyard Retail Store
74 Goldie Street
Wynyard, TAS, 7325
Rosny Retail Store
5 Bayfield Street
Rosny Park, TAS, 7018
Note: Glenorchy Stores and Smithton Agency no longer exist.
Updated June 20, 2021