Police Bank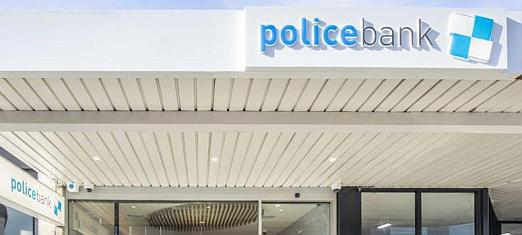 Police Bank, Sydney
Police Bank Limited (previously known as NSW Police Credit Union) is an Australian mutual financial institution established in 1964 by a group of officers. It provides high-quality products and services primarily to NSW Police Force, the Australian Federal Police and state of Tasmania. With over 75,000 members and 170 employees, it offers savings and transaction accounts, retirement plus accounts, personal and car loans, fixed term deposits, mortgages, motor vehicle insurance, home & contents and travel insurance as well as Visa credit and debit cards, refinancing of loans, online banking, Police Bank App, foreign currency exchange, college student services, financial planning, edvest service and more. It was formerly known as NSW Police Credit Union (PCU) and changed its name to Police Bank in December 2012. The company is supervised by APRA (Australian Prudential Regulation Authority). In 2018, a Tasmania-based Heritage Isle Credit Union (HICU) merged into the Police Bank and now operates as Bank of Heritage Isle. Police Bank also has the Border Bank brand (formerly Customs Bank) for employees of Department of Home Affairs, their families and associated community groups. As at June 30, 2020, the company reported $2.15 billion in total assets, $1.7 billion in loans and $1.8 billion in deposits.
Credit Ratings:
(Long-term / Short-term)
Fitch: BBB+ / F2
Outlook: Negative
Ratings are currenrt as of September 2021
Police Bank Awards
Money Magazine:
Investment Lender of the Year
Cheapest Personal Loan
Cheapest Balance Transfer
Best Kids Savings Account
Mozo Experts Choice:
Australia's Best Small Bank
Personal Loan Provider of the year
Low Rate Credit Card
Balance Transfer Credit Card
Excellent Credit Personal Loan
Green Personal Loan
Used Car Loan
Head office address:
25 Pelican Street
Surry Hills, Sydney
NSW Australia 2010
Phone number: 131 728
Opening hours:
Monday - Friday, 9 am - 5 pm
Saturday, Sunday - Closed
BSB number: 815 000
ABN: 95 087 650 799
Website: www.policebank.com.au
Police Bank Branches
Canberra
Shop 2, 121 Marcus Clarke Street
Canberra ACT 2601
Phone number: (02) 6206 7000
Goulburn
Police Academy, McDermott Drive, Goulburn, NSW
Tel: (02) 4827 1000
Narellan
Shop 311A - Narellan Town Centre
326 Camden Valley Way, Narellan, NSW, 2567
Melbourne
1010 LaTrobe Street, Docklands, Melbourne, VIC
The Branch doesn't offer cash deposits or withdrawals, ATM is available.
Sydney
25 Pelican Street, Surry Hills, NSW, 2010
Tel: (02) 8268 2500
Newcastle
24 Bolton Street, Newcastle, NSW, 2300
Tel: (02) 4908 6200
Wollongong
76 Market Street, Wollongong, NSW, 2500
Tel: (02) 4221 9000
The Branch doesn't offer cash deposits or withdrawals, ATM is available.